Dio – At Donington UK: Live 1983 & 1987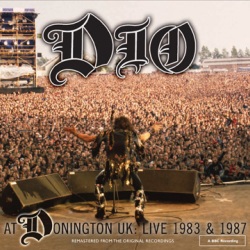 Man kann gar nicht oft genug betonen, wie wichtig Ronnie James Dio für die Metalwelt war. Als Sänger von Elf, Rainbow, Black Sabbath bzw. Heaven & Hell und seiner eigenen Band Dio hat der kleine Mann mit der großen Stimme, die am 16. Mai 2010 nach einem langen Krebsleiden für immer verstummte, für unzählige Klassiker gesorgt. Seine Teufelshorn-Geste – im Deutschen liebevoll als 'Pommesgabel' bekannt, ist längst internationales Trademark unter Metalfans weltweit. Kurz vor seinem Tod betreute Dio das Projekt "At Donington UK: Live 1983 & 1987", das nun posthum erscheint.
Zu finden sind hier die beiden Dio-Donington-Konzerte der Jahre 1983 und 1987 auf zwei CDs in einem schicken Digipack. Zu hören gibt es eine Mischung aus Solomaterial, Elf-Songs und Black Sabbath-Hits der Dio-Ära. In charismatische Ansagen und einen organischen Sound eingebettet, werden sämtliche Klassiker dargeboten: "Holy Diver", "Heaven And Hell", "Children Of The Sea", "Rainbow In The Dark", "Neon Knights" und "Man Of The Silver Mountain. Im Vordergrund: Ronnie James Dios kraftvolle Stimme, die immer und immer wieder unter die Haut geht.
Auszusetzen gibt es an diesem Paket nicht – liebevoll remastert, schick in Szene gesetzt und vom viel zu früh verschiedenen Meister selbst produziert. Für Dio-Fans ist "At Donington UK: Live 1983 & 1987" ein willkommener Leckerbissen. Seine letzte Studioaufnahme gibt es am 19. November zu hören, wenn David 'Rock' Feinsteins neues Soloalbum "Bitten By The Beast" mit dem 'vokalen Vermächtnis' "Metal Will Never Die" veröffentlicht.
VÖ: 05.11.2010
Niji Entertainment Group (Sony Music)
At Donington UK: Live 1983 & 1987 @ Amazon kaufen