The Ting Tings – Great DJ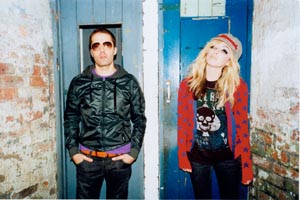 Jules De Marino (Schlagzeug, Gesang) und Katie White (Gesang, Gitarre, Bass Drum) sind keine Unbekannten mehr. In der Party-Szene Manchesters haben sie sich als The Ting Tings einen Namen gemacht. Mittlerweile ist man mit dem Debütalbum "We Started Nothing" und Hymnen wie "Shut Up And Let Me Go" und "That's Not My Name" international bekannt, durfte sogar kurz bei den VMAs auftreten. Hierzulande gibt es einen digitalen Re-Release der Indie-Hymne "Great DJ".
Passend zur DIY-Attitüde setzen die Ting Tings auf vergleichsweise einfache Sounds. Wuchtig stampfen die Drums, die Gitarre schrammelt im Nirgendwo und wird von einem kleinen Sample unterstützt. Auch wenn White treibende Gesangs-Kraft ist, ihr männlicher Counterpart greift ihr geschickt unter die Arme und sorgt für den nötigen Farbtupfer. Erst im Refrain explodiert der Song. Mehr Snare, ordentliche Melodie und geschicktes Riffing bieten sozusagen das Negativ zu den White Stripes. Ebenfalls Duo, ebenfalls Männlein-Weiblein-Kombination. "Great DJ" ist ein gut gelauntes Stück Rock, das durch seine Einfachheit und den witzigen Refrain besticht. Schönes Ding, gemeinsam mit dem ebenfalls charmanten Video ein feines Paket. Warum man allerdings eine digitale Single nochmals digital veröffentlicht, bleibt allerdings offen.
3,5/5 | Download-Single
VÖ: 19.09.2008
Columbia Records (Sony BMG)
The Ting Tings @ Myspace | The Ting Tings @ Amazon | The Ting Tings @ Musicload