Noah And The Whale – 5 Years Time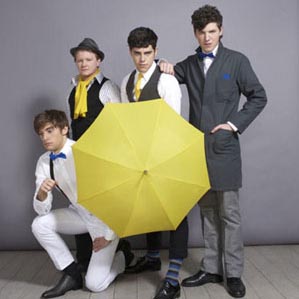 Wieder so ein unerwarteter Hit, aus dem Nirgendwo in die Top 10. "5 Years Time" ist ganz unerwartet in den britischen Top 10 aufgetaucht, hat die Musikwelt vor ein Rätsel gestellt. Warum kann so einfacher, knorriger Folk-Pop auch kommerziell punkten?
Die Briten setzen auf äußerst liebevolle Musik, betätigen sich minimalistische. Einfaches Drumroll, witzige Gitarre, Ukulele, malerische Keyboardmelodien, typisch britischer Sänger, gelegentlich einfallende Dame. Arcade Fire treffen auf Will Oldham. Klar, ein Lovesong, vorgetragen wie die Unschuld vom Lande. Dabei sind die Herren aus London, der großen Hauptstadt, der Weltmetropole. Dennoch klingen sie wie Led Zeppelin auf ihrem dritten, in Wales aufgenommenen Album. Folk oder Anti-Folk, Minimalismus oder Opulenz – all das sind nur wage Begriffe. Tatsächlich trifft "5 Years Time" ins Schwarze, ist eines dieser Liedchen, das man morgens gut gelaunt pfeift, während man sich in das Grau des Alltags stürzt.
3,5/5 | Download-Single
VÖ: 19.09.2008
Polydor Records (Universal Music)
Noah And The Whale @ Myspace | Noah And The Whale @ Amazon | Noah And The Whale @ Musicload