Coldplay – Prospekt's March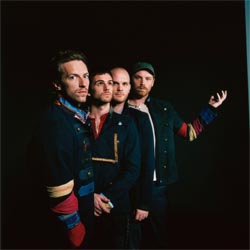 Erst kürzlich schockte Chris Martin die Musikwelt. In zwei Jahren wolle er Coldplay aus Altersgründen einstampfen. Hoffentlich ein weiteres Beispiel für britischen Humor, denn gerade die Sessions zu "Viva La Vida Or Death And All His Friends" zeigen die vier Herren produktiver denn eh und je. So erscheint nun, als Bestandteil einer Neuauflage des Albums, die EP "Prospekt's March" mit acht neuen und bislang unveröffentlichten Songs, die zwar besagter Session entstammen, aber erst nach Album-Release fertig gestellt wurden.
"Life In Technicolor" findet in einem zweiten Teil seine Fortsetzung, macht das Intro von "Viva La Vida" nun zu einem vollständigen Song. Die eigenwillige Kombination von Gitarre und Piano erinnert an The Cure, ist aber dennoch ein wuchtiger, beinahe bombastischer Coldplay-Song. "Postcards From Far Away" ist mehr Interlude, dafür kann "Glass Of Water" mit dicker Synthi-Front und zeitlosem Refrain punkten. Die Streicher von "Rainy Day" lassen zunächst eine Fortsetzung der letzten Single "Viva La Vida" vermuten, doch ein tanzbares Disco-Break sorgt für Verwunderung.
Etwas unterkühlt wirkt der Titeltrack, schlägt beinahe die Brücke zu den ersten beiden Alben – reduziert und songorientiert. Auf "Lost+", einer alternativen Version der aktuellen Single, rappt Jay-Z eine Zeile – ungewöhnlich, aber charmant. Ein Remix der kommenden Auskopplung "Lovers In Japan" sorgt für Drive, während das abschließende "Now My Feet Won't Touch The Ground" verzaubert. Zweieinhalb Minuten mit Akustik-Gitarre und Blechbläsern erinnern an Sigur Rós.
"Prospekt's March" ist ein sympathisches Erweiterungspaket zu "Viva La Vida". Vom Titeltrack "Now My Feet Won't Touch The Ground" hätten die neuen Songs auch problemlos auf besagte Platte gepasst. Die Qualität ist gewohnt hoch – Fans dürfen hier bedenkenlos zugreifen.
4/5
VÖ: 21.11.2008
Parlophone (EMI Music)
Coldplay @ Myspace | @ Amazon | @ Musicload