Matt And Kim – Block After Block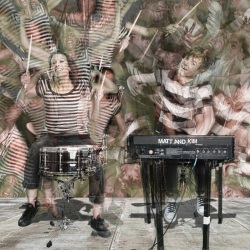 Es ist nicht unbedingt die Musik an sich, die Sänger / Keyboarder Matt Johnson und Drummerin Kim Schifino auch außerhalb ihrer US-amerikanischen Heimat bekannt gemacht hat, sondern vor allem die schrägen Videos, die sie als Matt And Kim drehen. In "Daylights" haben sie in Kleiderschränken und unter der Dusche musiziert, sich in "Cameras" im Proberaum geprügelt, nur um in "Lessons Learned" einen Striptease am Times Square hinzulegen – MTV Breakthrough Video Award inklusive. "Block After Block", die zweite Auskopplung aus ihrem dritten Album "Sidewalks" wirkt dagegen beinahe handzahm.
Rein musikalisch betrachtet, haben Johnson und Schifino sympathischen Indie-Pop der besonders hibbeligen Natur zu bieten. Getragen von beinahe 80er-lastigen Synthis, wird der Song von überraschend mächtigen Drums vorangepeitscht, die vor allem im Refrain Matt Johnsons klare, jugendliche Stimme tragen. Ganz entfernt darf man sich an "Fireflies" von Owl City erinnert fühlen, allerdings mit mehr Drive und einem gewissenomnipräsenten Augenzwinkern. Dazu passt auch die finale, für Popmusik klassische Steigerung, mit der die beiden den Song sauber an das rettende Ufer bringen.
Natürlich ist das dazugehörige Video überaus sehenswert ausgefallen und wertet den Song – neben einem beachtlichen Remix-Paket – deutlich auf. Auf Blut und nackte Tatsachen wird verzichtet, dafür rennen Matt And Kim durch New York mit einer Handvoll Fans und spielen spontane Konzerte an allen möglichen und unmöglichen Locations, wobei so mancher Rücken als Drumhocker herhalten muss. "Block After Block" an sich ist eine überaus sympathische Indie-Pop-Nummer, wohl auch der stärkste Song auf "Sidewalks". Video dazu und alles ist gut – ein kreatives Konzept für den fetten Grinser zwischendurch.
3,5/5 | DL-Single
VÖ: 08.07.2011
Different Recordings / PIAS (Rough Trade Germany)
Block After Block @ musicload | @ Amazon kaufen
Sidewalks @ musicload | @ Amazon kaufen