Project Pitchfork – Feel!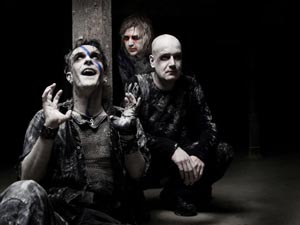 Beinahe hat man Project Pitchfork, Legenden ihres Genres, schon vergessen. Das letzte Studioalbum "Kaskade" ist bereits 2005 erschienen. Seither gab es kleinere Gastauftritte, Download-Aktivitäten und Live-Gigs. In "Dream, Tiresias!" steht am 27. Februar endlich eine neue Platte an. Vorab wird die Single "Feel!" mit zahlreichen Mixen ins Rennen geschickt.
Die beinahe sechsminütige Album Version – auf eine gekürzte Radio-Fassung hat man glücklicherweise verzichtet – geht relativ schroff zu Werke. Ganz offensichtlich findet bei Project Pitchfork eine Rückbesinnung auf frühere Großtaten statt. Gleichförmig wütend hämmern die Beats durch die Boxen, werden von Genretypischen Synthis unterstützt. Peter Spilles hat schon lange nicht mehr so düster und morbide geklungen, knurrt seine Zeilen förmlich. Auch die zahlreichen Mixe können das Niveau halten. [SITD] liefern gewohnt hohe Qualität ab, Die Krupps bewegen sich überraschend leichtfüßig. Highlight ist allerdings der Victorian-Mix von Jürgen Jansen im Wave-Gewand – ohne Beats, dafür beinahe romantisch. Bei "Feel!" wird in jeder Version Qualität groß geschrieben. Back to the roots machen sich Project Pitchfork ordentlich und lassen auf ein spannendes Album hoffen.
3,5/5
VÖ: 23.01.2009
Candyland / Prussia Records (Rough Trade Distribution)
Project Pitchfork @ Myspace | @ Amazon