Dub Pistols feat. Ashley Slater – Back To Daylight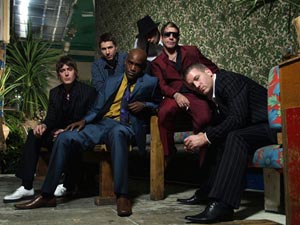 Lange Zeit schienen die Dub Pistols gemütlich zu ruhen, schließlich dauerte es nach dem starken Debüt "Point Blank" ganze sieben Jahre bis zu einem Nachfolger. Mittlerweile veröffentlichen die Herren Herren Ashworth, Spencer, King, O'Bryan, Borez und Wax aber in schöner Regelmäßigkeit. Das neue Werk "Rum And Coke" steht für den 12. Juni bereits in den Startlöchern. Als Vorabsingle gibt sich "Back To Daylight" ordentlich Mühe beseelt zum Mitshaken zu motivieren.
Das Piano zu Beginn erinnert entfernt an "The Racing Rats" von die Editors, wird aber schnell von coolen Beats mit schwer groovendem Bass verdrängt. An das stete "da da da" muss man sich gewöhnen, doch der verdammt geniale Gesang von Ashely Slater macht dieses etwaige Manko schnell vergessen. Ein wenig erinnert "Back To Daylight" an einen schnellen Mix von "Live With Me" (Massive Attack). So ruhig die Vocals auch sind, Soul, Groove und Dub sind verdammt stylish unterwegs. Die Kunst des Understatement wird durch leicht clubbige Untertöne und Keys verstärkt.
"Back To Daylight" ist einfach, reduziert und dennoch tanzbar, hat ein wenig von Strand und verschwitzter Clubnacht. Das ausladende Remixpaket bietet außerdem – wie auch das kommende Album – etwas für jeden Geschmack. Ein erster kleiner Sommerhit, der wohl leider untergehen wird.
3,5/5 | Download-Single
VÖ: 17.05.2009
Sundays Best / PIAS UK (Rough Trade Distribution)
Dub Pistols @ Myspace | @ Amazon | @ Musicload