…And You Will Know Us By The Trail Of Dead – Tao Of The Dead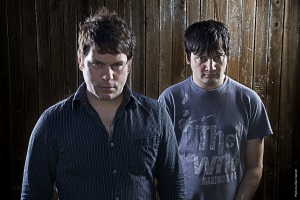 Zeit für ein kleines Meistwerk. Wenn Conrad Keely und Jason Reece die Maschine …And You Will Know Us By The Trail Of Dead anwerfen, wird es zwangsläufig spektakulär. So auch bei ihrem Debüt für Superball Music, das im Februar 2009 erschienene "The Century Of Self". Fast genau auf den Tag zwei Jahre später wird "Tao Of The Dead" hinterhergeschickt – ein Konzeptalbum, das im Prinzip aus zwei Songs (einer davon wurde auf zwölf Tracks aufgesplittet) besteht.
Der erste Teil baut sich beinahe zaghaft über ein Intro auf und geht direkt in "Pure Radio Cosplay" über – ein echtes Powerhouse mit vorwärts treibenden Drums, einem Hauch Nachdenklichkeit in den Breaks, viel Energie und einem psychedelischen Instrumentalteil. Die einzelnen Abschnitte sind zumeist Fragmente und kleine Bausteine mit der einen oder anderen Überraschung (Muse-Synthis in "Cover The Days Like A Tidal Wave"). Ebenfalls dabei: das peitschende "Weight Of The Sun" und das von dicken Gitarren und einem College-Rock-Refrain getragene "Summer Of All Dead Souls" – die beiden 'Singles' des Albums.
Nicht aufgesplittet wurde "Strange News From Another Planet", der zweite Teil dieses massiven Bollwerks. In fünf Abschnitten geht es von Aufbruchsstimmung und Rock gen Horizont über Krautrock-Jams, progressiv ausladende Zeitreisen und ein wenig Pop gen Grande Finale. Majestätisch rollende Drums, scharfkantige Gitarren und melancholischer Gesang bewegen sich geschickt gen Selbstzerstörung, gen Untergang, gen endgültigem Ende.
Mit dieser aufgeplusterten Konzept-Struktur fahren …And You Will Know Us By The Trail Of Dead gut. Der Song an sich wird ein wenig in den Hintergrund gerückt, das Destillat aus hunderten Ideen und Songschnipseln nimmt die Hauptrolle ein. Genussvoll beobachtet man Keely und Reece, wie sie sich in ihrer Musik verlieren, wie "Tao Of The Dead" immer monströsere Dimensionen annimmt. Die neue Platte ist eine schwere, dennoch gewohnt lohnenswerte Hymne. Mehrwert? Voll und ganz da. Eben ein kleines Meisterwerk.
VÖ: 04.02.2011
Superball Music (EMI Music)
Tao Of The Dead @ musicload | @ Amazon kaufen
…And You Will Know Us By The Trail Of Dead @ Home | @ Myspace