…And You Will Know Us By The Trail Of Dead – Festival Thyme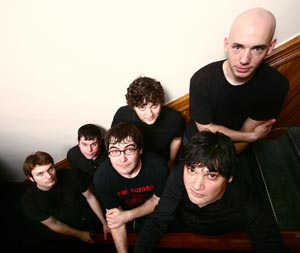 Abenteuer Major-Label beendet, "So Divided" abgeschlossen. Die sensationell verkopften Rocker …And You Will Know Us By The Trail Of Dead sind nun bei Superball Music untergekommen und schreiben fleißig an ihrem neuen Studioalbum, das Mitte 2009 erscheinen soll. Bis es so weit ist, darf die EP "Festival Thyme" gerne auch mehrfach genüsslich verzehrt werden.
"The Bells Of Creation" eröffnet tatsächlich halbwegs besinnlich, doch mit dem Einsatz Conrad Keeleys werden kaskadenartige Gitarrenwände losgetreten, eben typisch für Trail Of Dead – wuchtig, majestätisch und mit einem Refrain zum Niederknien ausgestattet, wie man das nun mal kennt. "Inland Sea" agiert da schon relativ pointierter, lässt das Piano witzige Farbkleckse setzen, ist aber dennoch in bester Mogwai-Manier kunstvoll verloren in Instrumental-Passagen, während immer wieder die Vocals durchscheinen, von Hall belegt. Einzig der Titeltrack "Festival Thyme" fällt aus dem Rahmen, ist ein gut zweiminütiges semi-akustisches Kleinod. Abschließend ist "The Betrayal Of Roger Casement And The Irish Brigade" die ultimative Mogwai-Verneigung – ein ellenlanges Instrumental zwischen Noise und Kunst.
Nein, Trail Of Dead bleiben gewohnt verkopft, stoßen sich am gängigen Radioformat und liefern ausufernden instrumentalen Wahnsinn, der in dieser Art bei "So Divided" nur versteckt vorgekommen ist. Halten sie nur annähernd das Niveau von "Festival Thyme", dürften Post-Prog-Rock-Frende im Sommer ein kleines Meisterwerk in den Händen halten.
4/5
VÖ: 28.11.2008
Superball Music (SPV)
Trail Of Dead @ Myspace | @ Amazon | @ Musicload