Alarma Man – Love Forever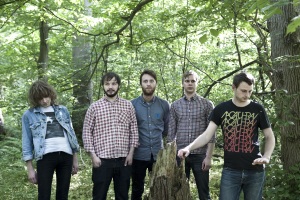 Ein instrumentaler Nackenschlag reichte, um fünf Schweden in den erweiterten Dunstkreis des immer frischen Mathpunk-Universums zu katapultieren. Mit ihrem selbstbetitelten Debütalbum haben Alarma Man einen Volltreffer gelandet. Auf "Love Forever" konzentrieren sie ihre einst ungestümen Angriffe und lassen die Vocals zu einem neuen Instrument aufsteigen. Tanzwütige Studenten mit Taschenrechner in der Hand wissen es ihnen zu danken.
Der Aufruf zur ewigen Liebe fällt anständig hektisch aus, stößt dank gesteigerter Eingängigkeit wohl auch auf Gegenliebe bei einem breiteren Indie-Publikum. "Cabin In The Woods" dreht sich zunächst um sich selbst, nur um dank Riff-Einsatz und stark mit Hall belegeten Vocals anständige Melodien zu zaubern. Offensichtlich haben die Schweden relativ genau verfolgt, wie sich Mutemath mehrfach selbst übertroffen haben. Pop-Appeal und anspruchsvolle Rhythmen können offensichtlich auch mit- und nebeneinander, auch wenn das weitestgehend instrumentale "Pitch Grammar" diesen Umkehrschluss eher in die Hände von The Dismemberment Plan und Gang Of Four legt.
"Love Forever" ist ein wenig zu kurz – knapp unter 35 Minuten jedoch fordern die acht Songs vollste Aufmerksamkeit, denn der plötzliche Wechsel von beinahe tanzbarem Math-101 und Indie-Weisheiten ist wahrlich nichts für schwache Gemüter, dafür umso lohnenswerter. Alarma Man werden erwachsen und lassen auf more news from nowhere hoffen.
VÖ: 13.08.2010
Sinnbus Records (Rough Trade Distribution)
Love Forever @ musicload | @ Amazon kaufen