Kings Of Leon – Radioactive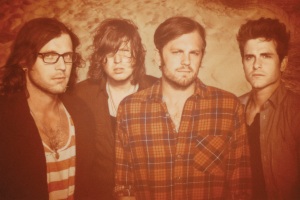 Sechs Millionen verkaufte Alben, vier Grammys und zahlreiche Hits in "Sex On Fire", "Use Somebody" und "Notion" – "Only By The Night" hat den Kings Of Leon den längst verdienten und überfälligen Durchbruch gebracht. Auf "Come Around Sundown", ihrem fünften Studioalbum, geht es wieder minimal ruhiger, dennoch ähnlich hitverdächtig zu. Man muss allerdings zweimal hinhören, wie die erste Single "Radioactive" verrät.
Entstanden ist "Radioactive" bereits vor einigen Jahren, als die Kings Of Leon das Album "Aha Shake Heartbreak" schrieben, wurde allerdings erst mit den aktuellen Aufnahmen fertiggestellt. So kommt es nicht von ungefähr, dass sich dieser spiritueller Track ein wenig zwischen den Stühlen befindet. Man erwartet förmlich den Kickstart der vier Amerikaner, das endgültige Abheben in die zügellosen Sphären von "Sex On Fire", doch dazu kommt es nicht.
Die Kunst hierbei ist es jedoch nicht ins Schaumgebremste abzudriften, sondern mit einem Understatement von einem Refrain (Gospelchor inklusive – Papa wird sich freuen) die emotionale Ebene anzusprechen. "Radioactive" knistert, vibriert und bleibt in seinen besten Momenten in sich gekehrt – ein kleines Kunstwerk, ein potentieller Klassiker.
4,5/5
VÖ: 15.10.2010
RCA Int. (Sony Music)
Radioactive @ musicload kaufen
Come Around Sundown @ Amazon kaufen