Snow Patrol – Crack The Shutters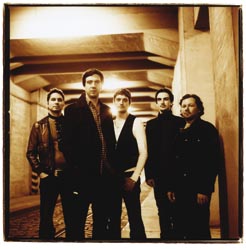 Nach jahrelangem Dasein als Insidertipp haben Snow Patrol endlich den weltweiten Durchbruch geschafft. "Chasing Cars" hat für die Briten einen Quantensprung bedeutet, den ihr Album "Eyes Open" lange schon verdient hatte. Auf ihrem neuen Album "A Hundred Million Suns" machen sie es sich keineswegs einfach, haben sich mit "Take Back The City" an einer ruhigen Single versucht. Das semi-balladeske "Crack The Shutters" sollte allerdings wieder entsprechend abräumen.
Ausgehend von einer beschwingten, einfach gehaltenen Piano-Melodie erfolgt ein konstanter Aufbau, der bereits auf "Open Your Eyes" perfekt funktioniert hat. Gordon Lightfoot säuselt ein wenig ins Mikrophon, dann setzt die Band ein. Das Schlagzeug drückt, kämpft gegen die Idylle ein. Man kann nicht so recht sagen, ob man es hier nun mit einer Ballade oder einem verkappten Uptempo-Song zu tun hat. Ist auch egal, denn der gemächliche, behutsame Aufbau spricht für sich. Der erwartete Ausbruch passiert aber nicht. Stattdessen bricht "Crack The Shutters" am vermeintlichen Höhepunkt ab. War es das wirklich? Gleich noch einmal reinhören. Und noch einmal. Und noch einmal. Ein Hoch auf den Suchtfaktor.
3,5/5
VÖ: 16.01.2009
Fiction Records (Universal Music)
Snow Patrol @ Myspace | @ Amazon | @ Musicload