Brandi Carlile – The Story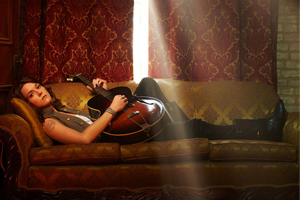 Gut Ding will Weile haben, selbst im oftmals sehr schnelllebigen Musik-Biz. Denn es ist bereits zwei Jahre her, dass "The Story" von der US-amerikanischen Singer-Songwriterin Brandi Carlile in ihrer Heimat erschien. Gepusht durch Grey's Anatomy, darf die junge, eigentlich dem Country erwachsene Sängerin nun auch hierzulande ihre Geschichte präsentieren.
Nach dem selbst betitelten Debüt 2005, "The Story" 2007, erschien im vergangen Jahr bereits das dritte Studioalbum "Give Up The Ghost". Letzteres namhaft unterstützt durch keine Geringeren als Elton John und Peppers-Drummer Chad Smith. Möglich wurde dies freilich erst durch "The Story", produziert von der lebenden Legende T-Bone Burnett. Inklusive einer gleichnamigen Single.
Pop-rockig instrumentiert, brilliert die 28jährige Sängerin dort mit ihrer voluminösen Stimme. Steigt zu dezenten Gitarren ein, baut sich gefühlvoll auf, ehe der Song lautstark aus sich heraus bricht. Carlile agiert voller Gefühl. Sie versteht es vortrefflich, mit dem warmen Timbre ihrer Stimme zu arbeiten. Da stört der kleine stimmliche Bruch im letzten Drittel auch nicht. Passiert bei der Aufnahme, könnte aber durch nichts Authentischeres ersetzt werden. Beeindruckend, was im oftmals perfekten Musik-Biz (zu Recht) gehört sein will.
3,5/5 | Digital Single | 19.02.
Columbia (Sony Music)
Brandi Carlile @ Home | @ MySpace
"The Story" (Album) @ Amazon | @ musicload kaufen
"Give Up The Ghost" @ Amazon | @ musicload kaufen