Eternal Tango – Welcome To The Golden City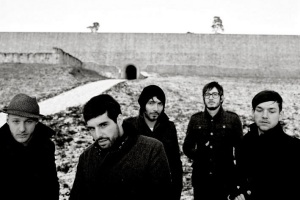 Auch in Luxemburg rockt es sich gut. Richtig, im kleinen Luxemburg, wo es keine richtige Musikszene gibt, dafür aber Eternal Tango, deren Blick zwischen den französischen und deutschen Nachbarn pendelt. Ihre Hardcore-Wurzeln haben sie längst abgelegt und präsentieren mit "Welcome To The Golden City" eine Mischung aus Emo, Pop und Rock, die nicht nur Fans von Panic! At The Disco begeistern dürfte.
"G-O-L-D-E-N" – der Quasi-Titeltrack "The Golden City" tritt eine 33minütige Rocklawine los, womit auch schon der einzige Fehler, das sprichwörtliche Haar in der Suppe gefunden ist. "Welcome To The Golden City" ist zu kurz. Umkehrschluss: Überflüssiges Fett gibt es nicht, hier ist jeder Song ein Treffer. Über den kompakten Rocker geht es direkt in die Vorstellung von "Ronny Roy Johnson", Bürgermeister der goldenen Stadt.
Der Hitreigen nimmt seinen Lauf, wobei gerade "Oh! No" mit Panic!-Zitaten und das dezent an Billy Talent angelehnte "The Vicious Five" angenehme Vertrautheit mit sich bringen. Hier wird nicht rein abgekupfert, hier werden Querverweise gezogen für maximale Eingängigkeit – siehe auch die Hymne "Be A S.T.A.R.", die auch auf der neuen Donots-Platte Platz gefunden hätte.
Sieht man von der bereits angesprochenen, beinahe schmerzhaften Kürze ab, so ist "Welcome To The Golden City" quasi fehlerlos. Eternal Tango liefern ein charmantes Konzeptalbum mit einer Fülle an Hooklines zwischen Indie-Disco und Mainstream-Radio ab. Den Schalk haben die Luxemburger im Nacken – demnächst auch auf Tour in Deutschland.
VÖ: 26.03.2010
Golden Fox Records (Rough Trade Distribution)
Welcome To The Golden City @ musicload | @ Amazon kaufen
Eternal Tango @ Home | @ Myspace