Aloe Blacc – I Need A Dollar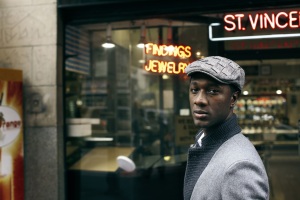 Mutig, mutig: Während sich die Musikwelt mehr und mehr in Synthetik und technische Spielereien vertieft, wagt sich Aloe Blacc zurück zu den Wurzeln. Der US-Sänger, der bereits Mitte der 90er als Teil der Indie-Rapper Emanon in Erscheinung getreten war, steht für handgemachten 60s-Soul ohne elektronische Gehhilfen. Aus seinem neuen Album "Good Things" stellt Blacc vorab "I Need A Dollar" vor, den Titelsong zur HBO-Serie "How To Make It In America".
Bei "I Need A Dollar" stimmt wirklich alles – dominantes Piano mit einer einfachen und einprägsamen Melodie, treibender Rhythmus mit klassisch angeschlagenem Bass und Blaccs kraftvolles Organ, gepaart mit dezent eingesetzten Adlibs und Blechbläsern. Tatsächlich atmet der Song den Geist von Marvin Gaye und Bobby Womack, wobei wohl erst "Good Things" zeigen wird, ob Blacc auch nur annähernd deren Erbe antreten kann. Was bleibt ist jedoch ein angenehm schlicht und dennoch unheimlich einprägsam gehaltener Soul-Song, der sich ähnlich der Kollaboration von John Legend & The Roots erfolgreich auf den Ursprung des Genres und all seine Feinheiten besinnt.
4/5
VÖ: 01.10.2010
Universal Music
I Need A Dollar @ musicload kaufen
Good Things @ Amazon kaufen
Aloe Blacc @ Home