HeadCat – Walk The Walk…Talk The Talk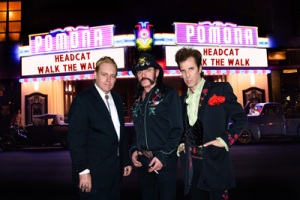 Als bärbeißiger Frontmann von Motörhead, Rock'n'Roll-Legende und neuerdings auch Doku-Star ist Lemmy bestens bekannt. Seine Liebe zu klassischen Rock'n'Roll-Klängen ist jedoch kaum bis gar nicht dokumentiert worden. Unter dem Banner HeadCat (ehem. The Head Cat) zockt er gemeinsam Drummer Slim Jim Phantom (The Stray Cats) und Gitarrist Danny B. Harvey (Lonesome Spurs, The Rockats) Rockabilly, Blues und klassischen Rock'n'Roll. Was einst als Elvis-Tribute-Act begonnen hat, wirft nun das zweite Studioalbum "Walk The Walk…Talk The Talk" ab.
Natürlich hat es mit "Trying To Get You" auch ein Elvis-Track aufs Album geschafft, allerdings sind HeadCat dieses Mal überall und nirgendwo unterwegs. So covern sie "You Can't Do That" von den Beatles mit einem gewissen Augenzwinkern und hauchen Chuck Berrys "Let It Rock" neues Leben ein. "Say Mama" von Gene Vincent macht ebenso Laune wie "It'll Be Me" von Jerry Lee Lewis.  Ganz weit vorne sind jedoch die beiden Eigenkompositionen. "American Beat" eröffnet das Album mit einem amtlichen Arschtritt und feinen Piano-Einsätzen, während "The Eagle Flies On Friday" kaputten Blues par excellance bietet. Man darf es ja kaum sagen, aber in diesen 200 Sekunden erinnern HeadCat entfernt an die White Stripes.
Sieht man über die viel zu kurze Spielzeit – 27 Minuten und ein bisschen was drauf – hinweg, haben HeadCat einen echten Leckerbissen am Start. Die Coverversionen wirken angenehm authentisch, die beiden eigenen Songs fügen sich perfekt ins Gesamtbild ein und Lemmy grummelt auch bei 50s- und 60s-Songs großartig. "Walk The Walk…Talk The Talk" funktioniert, weil man auf der von Cameron Webb produzierten Platte drei Musiker hört, die unheimlich viel Spaß haben – Spaß, der sich auch auf den Hörer überträgt. Kurzweilige Unterhaltung par excellance.
VÖ: 01.07.2011
Niji Entertainment Group (Tonpool)
Walk The Walk…Talk The Talk @ Amazon kaufen
HeadCat @ Home | @ Facebook