Oasis – The Shock Of The Lightning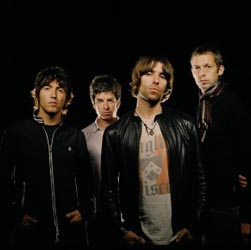 Oasis sind ausgebrochen. An eine große Plattenfirma ist man längst nicht mehr gebunden, macht mit Big Brother Records nun eigene Sache. Noel Gallagher mag zwischen Bühnenattacken und Gastauftritten bei Russell Brands Radioshow gefangen wirken, doch für das neue Album "Dig Out Your Soul" war dennoch Zeit. Erster Vorbote ist "The Shock Of The Lightning".
Wirkliche Überraschungen gibt es nicht. Im Gegenteil, der Song klingt ganz typisch nach Oasis, auch wenn das Schlagzeug scheinbar mehr Präsenz bekommt und die Orgel noch mehr nach Beatles klingt als vermutlich der gesamte Backkatalog. Liam darf dieses Mal singen, lässt von einem regelrechten Wall of Sound umgeben. Natürlich ist das ein Markenzeichen der vier Briten wie auch der schrittweise Aufbau, der nur bedingt auf einen Höhepunkt zusteuert, stattdessen fünf Minuten lang konstant zu explodieren scheint. Gute Melodie, fein herausgearbeitet, dazu überzeugen die Details, die kleinen Kniffe und Drehs, die man über die Jahre hinweg mitnimmt. "The Shock Of The Lightning" ist eben psychedelischer Britpop in Reinkultur, hat all das dabei, was Oasis ausmacht, und ist vor allem ein unverschämter Grower.
3,5/5
VÖ: 26.09.2008
Big Brother (Indigo)
Oasis @ Myspace | Oasis @ Amazon