Coldplay – Life In Technicolor II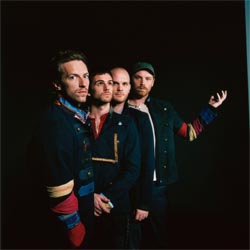 Natürlich war es nur ein Scherz, Coldplay werden nicht in zwei Jahren in Salzsäure eingetaucht, auch wenn sich das der eine oder andere (ab)geneigte Radiohörer wünschen dürfte. Ganz im Gegenteil, die Briten befinden sich bereits im Studio, um ein neues Album aufzunehmen. Rar machen sich Chris Martin und Konsorten deswegen aber nicht, denn die neue Single "Life In Technicolor II" steht bereits in den Startlöchern.
Das Intro von "Viva La Vida Or Death And All His Friends" findet also eine Fortsetzung, ursprünglich auf der EP "Prospekt's March" erhältlich. Aus dem höchst schmeichelnden und atmosphärischen Instrumental wurde ein durchwegs gelungener Pop/Rock-Song kreiert. Auffällig sind die druckvollen Drums, die scheinbar dem engen Konstrukt entkommen wollen und damit für Belebung sorgen. Im Refrain geht förmlich die Sonne auf. Chris Martin, umgeben von einem Eno'schen Wall of Sound, jodelt sich in höchste Höhen und hebt gleichzeitig so weit ab, dass seine Füße den Boden nicht mehr zu berühren vermögen. Ähnlich eigen und doch fesselnd ist das dazugehörige Video, das ganz ohne Coldplay auskommt und ein Puppentheater zum Wembley Stadium macht. Sehens- wie hörenswert.
3,5/5 | Download-Single
VÖ: 30.01.2009
Parlophone (EMI Music)
Coldplay @ Myspace | @ Amazon | @ Musicload