Empire Of The Sun – Walking On A Dream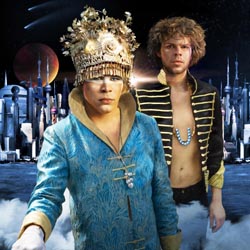 Spacy Outfits sind nicht alles für Empire Of The Sun. Hinter dem australischen Pop-Duo stecken zwei gar nicht so unbekannte Gesichter. Sänger Luke Steele ist Frontmann von The Sleepy Jackson, Soundtüftler Nick Littlemore hat bereits mit Elton John und The Killers gearbeitet. Die Viertplatzierten des "BBC Sound of 2009"-Polls veröffentlichen am 13. März ihr Debütalbum "Walking On A Dream" auch in Deutschland. Bereits vorab gibt es den Titeltrack als Download-Single.
Passend zum langsam aber sicher einsetzenden Frühling bieten die Australier sanftmütigen Electro-Pop, beinahe schon seicht. Steele wirft mit herrlich akzentuierten Phrasen um sich, lässt sich von luftig leichten Synthis, stark vereinfachten Beats und schwebenden Gitarren bestens unterstützen. Musikalisch spielen hier natürlich The Sleepy Jackson eine starke Rolle, werden von Littlemore in ein elektronisches Konzept gepackt. Man stelle sich "Electric Feel" von MGMT in einem Air Remix – leichtfüßig, aber doch tanzbar und eindringlich. "Walking On A Dream" ist ein herrlich übersichtlich gehaltener Popsong, der sich nur das lange Fade-Out hätte sparen können. Ansonsten Top-Ware.
3,5/5 | Download-Single
VÖ: 06.02.2009
EMI Music
Empire Of The Sun @ Myspace | @ Amazon | @ Musicload