Passion Pit – The Reeling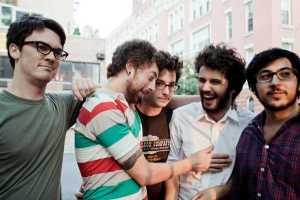 Rein musikalisch ist die Trefferquote der BBC erstaunlich. Bei ihrem 2009er Poll haben Passion Pit Platz 9 erreicht und  seither von ihrem Minihit "Sleepyhead" gelebt. Das ist nun freilich vorbei, denn das Debütalbum "Manners" klopft an die Tür mit glammigem Electro-Pop, der perfekt zu den Trendsettern MGMT und Empire Of The Sun passt. Erster Vorgeschmack ist die E-Single "The Reeling".
Ein wenig fühlt man sich an "Oracular Spectacular", das Debütalbum von MGMT, erinnert. Ähnlich leichtfüßig und doch tanzbar zieht "The Reeling" seine Kreise. Die Beats bleiben dezent im Hintergrund, darüber bekriegt eine aggressive Synthi und eine Funkline, spartanisch und doch so dicke. Die Vocals sind gedoppelt, im Falsett vorgetragen, sehr sphärisch unterwegs. Gen Refrain darf außerdem ein Kinderchor mitsingen, während die fünf Herren aus Cambridge, Massachusetts extrem lässig auf Discokugeln eindreschen – letzteres besonders im Remix von Calvin Harris zu hören.
Was ist das nun also, dieses "The Reeling"? Poppige Foals vielleicht, eventuell Empire Of The Sun mit Drive. Oder schlicht und ergreifend Passion Pit, die hiermit im Übrigen nur eine von vielen Facetten ihres kommenden Albums zeigen. Und diese Platte riecht nach ganz großem Kino.
3,5/5 | Download-Single
VÖ: 26.06.2009
Columbia Records (Sony Music)
Passion Pit @ Myspace | @ Amazon | @ Musicload