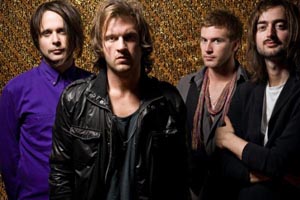 Auf ihrer Minitour durch Deutschland haben Dredg eine nicht minder atemberaubende Supportband mit an Bord gehabt. Expatriate sind vier Australier, die 2007 mit ihrem Debütalbum "In The Midst Of This" bereits ordentlich abgeräumt haben. Mittlerweile sind sie nach Berlin gezogen, um mit besagtem Album – geplante VÖ: Herbst 2009 – Europa zu eröffnen. Der erste Vorgeschmack "Home" hat es bereits in sich.
Ihr Sound ist tanzbar, der Rhythmus, die Gitarren dennoch melancholisch – Editors, Dúné und die obligatorischen Joy Division lassen grüßen, wenn die Hymne "Gotta Get Home" loslegt. Dreieinhalb Minuten für die Ewigkeit, perfekter Gitarrenrock mit hypnotischer Hook und einem fantastischen Refrain. Dahinter steht "Blackbird", noch eine Spur melancholischer, vielleicht sogar zurückhaltend. Was für ein Schlagzeuger. Oder "Heart Attack", diese bittersüße Symphonie, die an scheinbar unpassender Stelle die Gitarren auspackt und die Wolken vertreibt. Genauso das abschließende Songfragment "Aviation At Night", kalt und technoid, zwei Minuten Seelenqualen mit Augenzwinkern und den Killers.
Feines Ding, meine Herren. "Home" ist ein kleiner, viel zu kurzer Eindruck von einer großartigen Indie-Rock-Band aus Down Under, die ihre Liebe zu Post Punk und elektronischer Musik zu keiner Zeit verhehlt. Und das soll nur der Anfang sein. "In The Midst Of This" muss groß werden.
4/5
VÖ: 05.06.2009
PIAS Germany (Rough Trade Distribution)
Expatriate @ Myspace | @ Amazon | @ Musicload