Los Campesinos! – Romance Is Boring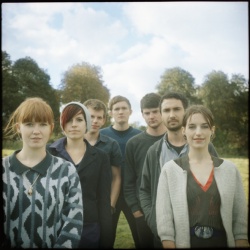 Sympathisch, diese Los Campesinos!. Veröffentlichen zunächst zwei Alben innerhalb von acht Monaten, nur um dann ein klein wenig auf Tour zu gehen und das Kollektiv (14 Fäuste für ein Halleluja) bei Laune zu halten. Nun also "Romance Is Boring", bereits letzten Sommer aufgenommen. Blasinstrumenten und Experimenten wird mehr Platz eingeräumt, was gelegentlich auch songdienlich sein kann.
Der Auftakt, programmatisch "In Media Res" betitelt, hangelt sich zunächst durch einen Hauch von Gitarren und Glockenspiel, steigert sich gegen Ende aber in methodisches Chaos. Die Trompeter sind da, die vielen Stimmen ebenso. Himmel auf Erden, von den beiden Singles "There Are Listed Buildings" (schon mal die Parallelen zu "Sound Of Settling" bemerkt) und "Romance Is Boring" anständig unterstützt. Gleich noch das poppige, beinahe samtene "We've Got Your Back" hinterher – welch Einstieg in diese Platte!
Erst jetzt beginnen die Experimente, nimmt der Wahnsinn seinen Lauf. "Who Asleep In" verfällt kurzzeitig in den Dreiviertel-Takt, tänzelt leicht angetrunken durch den Ballsaal, begleitet durch Arcade Fire. "A Heat Rash In The Shape Of The Show Me State Or, Letters From Me To Charlotte" trompetet sich direkt nach Omaha, während "I Just Sighed. I Just Sighed, Just So You Know" den Folkwahn durch den Remix-Fleischwolf dreht.
Der Wahnsinn ist bei Los Campesinos! allgegenwärtig. Ohne Frage ist "Romance Is Boring" ihr bislang abwechlungsreichstes Album, eine sehr komplexe und forderne Platte, was angesichts der ausufernden Vorgänger einiges zu bedeuten hat. Hits und Wahnsinn, ein kleiner Okie-Wahn und Lieder über gescheiterte Beziehungen – runde Sache.
VÖ: 29.01.2010
Wichita Records / Cooperative Music (Universal Music)
Romance Is Boring @ Amazon kaufen