Melissa Auf der Maur – Out Of Our Minds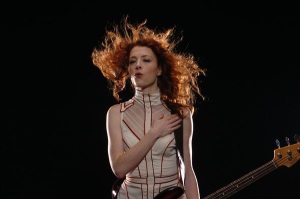 Sechs Jahre sind im schnelllebigen Musikgeschäft eine verdammt lange Zeit. 2004 veröffentlichte Melissa Auf der Maur ihr Solodebüt "Auf Der Maur". Während ihre ehemalige Band Hole mit Courtney Love ein Comeback wagt, präsentiert die Kanadierin ihren sehnsüchtig erwarteten Zweitling "Out Of Our Minds", der sämtlichen Erwartungen weitestgehend gerecht wird.
Auf den ersten Blick fehlen die aggressiven, beinahe umwerfenden Hits, die man vor sechs Jahren unter anderem mit "Followed The Waves" und "Real A Lie" hatte. Stattdessen wirkt Auf der Maurs Bass noch präsenter, die Stimme um einiges entrückter. Der Titeltrack "Out Of Our Minds" ist poppige Liebe, dennoch mit einem wüsten Wüsten-Hang, der vor allem in "Meet Me On The Dark Side" und dem psychedelisch angehauchten "The Key" deutlich wird. Ganz klar, die Queens Of The Stone Age sind überall.
Über weite Strecken lebt die singende Bassistin für die Schönheit des ausladenden Moments. In "Follow The Map" verliebt man sich schnell, während "Isis Speaks" mit schroffem Auftreten abzuschrecken versucht. Gespenstisch schön hingegen ist "Father's Grave", ein schwermütiges Duett mit Glenn Danzig. Parallelen zu "Loverman" scheinen nicht von ungefähr zu kommen, auch wenn Nick Caves finsteres Organ doch ein wenig besser gepasst hätte.
Gerade dieses leichte Gefühl des Unfertigen, des Nicht-Perfekten macht "Out Of Our Minds" zu einem starken Rockalbum. Melissa Auf der Maur liefert kein reines Follow-Up zu "Auf Der Maur", sondern bemüht sich um eine Erweiterung ihres Klangkosmos gen Noise und Schönklang. Das will honoriert werden – Gänsehaut und Nackenstarre in einer forschen Bewegung.
VÖ: 02.04.2010
Roadrunner Records (Warner Music)
Out Of Our Minds @ musicload | @ Amazon kaufen