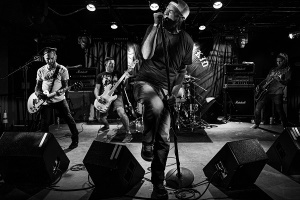 Pünktlich zum Jahreswechsel kracht es noch einmal so richtig im Gebälk, denn mit Be Well debütiert eine neue Band mit alten Gesichtern, die Fans alter Strike Anywhere- und Rise Against-Platten ein beseeltes Lächeln auf die Lippen zaubern dürfte. Aktuelle und ehemalige Mitglieder von Bane, Darkest Hour und Fairweather zocken melodischen Hardcore, wahlweise mit Post-Präfix oder punkigen Untertönen versehen. Erst vor wenigen Monaten gegründet, steht nun die erste Single mit zwei Songs in den Startlöchern.
"Strength For Breath" ist der härtere der beiden Songs – ruppiger Hardcore mit melodischem Einschlag und der nahezu perfekten Mischung aus feisten Stakkato-Attacken und angepunkt-angepisstem Refrain der Superlative. 135 rasante, atemlose Sekunden rattern vorbei mit einer etwas gemächlicheren, dennoch ungemein wuchtigen zweiten Hälfte. Als Hit dieses ersten musikalischen Lebenszeichens geht aber gewiss "Frozen" durch. Mehr Rock, mehr Variation und quengelige Untertöne brennen sich ein. Ja, das ist tatsächlich eingängig auf eine überaus abwegige Weise. Gerade die schroffen Uptempo-Parts haben es in sich, nehmen von Cave In bis Deftones alle mit.
Nur fünf Minuten, schon ist dieser Happen wieder vorbei. Und doch hinterlassen Be Well einen großartigen Eindruck, beinahe so stark wie die zuletzt packenden Breather. Eine melodische Hardcore-Monstrosität und ein leicht verschrobenes Post-Something-Wunderwerk geben sich die Klinke in die Hand. Fans von Thrice, Hüsker Dü und Saosin sollten hier bedenkenlos zugreifen – auch wenn die streng limitierte Vinyl-Ausgabe leider schon längst ausverkauft ist.
Wertung: 4/5
Erhältlich ab: 04.12.2019
Erhältlich über: Rude Records / Equal Vision Records
Be Well @ Facebook
"Be Well" @ Amazon kaufen