The Wolf Howls When I Scream Your Name – Where Flies Will Reign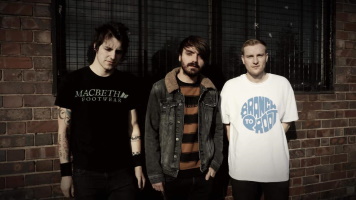 Erst im April 2019 machten The Wolf Howls When I Scream Your Name erstmals von sich reden. Ursprünglich von Sänger und Gitarrist Matthew Awberry als Soloprojekt angedacht, sorgte der durchaus komplexe, emotional aufgeladene Sound von "To Be Where There Is Pale Light" für Aufregung. Für den nicht minder aufwühlenden Nachfolger "Where Flies Will Reign" ließ man sich von Alice In Chains bzw. den Texten von Layne Staley rund um "Jar Of Flies" inspirieren.
Wie "My Anaemic Friend" langsam anrollt und beklemmende Stimmung satt mitnimmt, bewegt. Das erinnert tatsächlich an die eingangs erwähnten Grunge-Heroen, bloß im akustischen Gewand. Und dann hebt der Track kurz vor Schluss doch noch mit wütenden Druckwellen und schroffem Sperrfeuer ab – warum auch nicht? "Lovely Shiny Teardrop" spielt hingegen mit Britpop-Gepflogenheiten, als ob The Twilight Sad plötzlich Travis covern würen. Selbst in dieser oberflächlichen Süße sitzen kleine Widerhäkchen. Zum Abschluss geht es, natürlich, um die beinahe obligatorische Verneigung vor Radiohead. Das schleppende "I'm Not Well" klingt wie sein Songtitel, leidet in aller Gemächlichkeit und legt das Seelenleben offen. Abermals wird es zum Schluss hin eine Spur rauer, lauter, scharfkantiger – kommt gut, brennt sich ein.
Große Überraschungen bleiben aus – "Where Flies Will Reign" knüpft schlicht und ergreifend an die Debüt-EP an, was natürlich keine schlechte Sache sein kann. Das Trio aus Manchester legt abermals alles offen, macht aus dem Herzen gefühlte drölfzig Mördergruben und geht mit chirurgischer Präzision unter die Haut. The Wolf Howls When I Scream Your Name etablieren sich als Top-Adresse für klassischen Alternative Rock mit brachialer Ehrlichkeit – ein weiterer toller Exkurs, der auf ein ganzes Album von ähnlicher Klasse hoffen lässt.
Wertung: 4/5
Erhältlich ab: 03.01.2020
Erhältlich über: Eigenvertrieb
The Wolf Howls When I Scream Your Name @ Facebook
"Where Flies Will Reign" @ Bandcamp kaufen