War Child – Heroes Vol. 1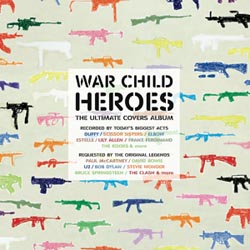 Man kann die Hilfsorganisation War Child gar nicht oft genug hervorheben für ihren unermüdlichen Einsatz für Kinder in Kriegsschauplätzen. Dank beeindruckender Sampler hat man sich auch einem breitenwirksamen Musikpublikum vorgestellt – zuletzt 2005 mit "Help!: A Day In The Life", für das alle auf der CD vertretenen Songs binnen 24 Stunden aufgenommen wurden. Auch das Konzept hinter "War Child – Heroes Vol. 1" lässt den Feinschmecker mit der Zunge schnalzen. Hierfür haben sich 15 Musiklegenden junge Künstler ausgesucht, die ihre Songs covern sollten. Aufgenommen wurde diese Compilation in den legendären Abbey Road Studios.
Königin der Helden ist zweifelsohne Lily Allen. Ihre Version des Clash-Klassikers "Straight To Hell" ist zum Niederknien – verträumter Pop mit Reggae-Flair und herrlichen Alternative-Gehversuchen. Daneben gibt es einige Überraschungen. Rufus Wainwright kümmert sich fantastisch um Brian Wilsons "Wonderful / Song For Children". Die Mercury-Prize-Gewinner Elbow romantisieren "Running To Stand Still" von U2 und Franz Ferdinand machen Blondies "Call Me" zum Post-Punk-Tanzflächenfeger.
Die glammige Seite kommt keinesfalls zu kurz. "Leopard-Skin Pill-Box Hat" – im Original von Bob Dylan – wird von Beck plüschgefunkt. Und wer außer den Scissor Sisters könnte "Do The Strand" von Roxy Music so herrlich vermöbeln? Auch klasse – Peaches macht Iggy Pop in "Search And Destroy" zum Electroclash-Düsternis. Duffys Bearbeitung von Sir Maccas "Live And Let Die" sowie die düsteren Hot Chip in "Transmission" (Joy Division) bleiben da nur Randnotizen.
"War Child – Heroes Vol. 1" besticht durch ansprechende Coverversionen – mal mehr, mal weniger ungewöhnlich – durchwegs hohe Qualität, Abwechslung und Überraschungsmomente. Außerdem tut man mit dem Kauf dieser Compilation noch etwas für den guten Zweck – sofort zugreifen!
VÖ: 20.02.2009
Parlophone (Universal Music)
War Child @ Myspace | @ Amazon | @ Musicload