The Ting Tings – Shut Up And Let Me Go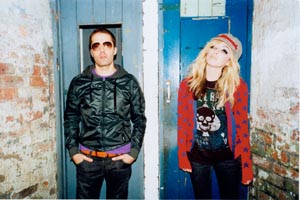 Jules De Marino (Schlagzeug, Gesang) und Katie White (Gesang, Gitarre, Bass Drum) sind keine Unbekannten mehr. In der Party-Szene Manchesters haben sie sich als The Ting Tings einen Namen gemacht. Mittlerweile ist man mit dem Debütalbum "We Started Nothing" und Hymnen wie "Great DJ" und "That's Not My Name" international bekannt. Das ursprünglich bereits als B-Seite veröffentlichte "Shut Up And Let Me Go" wird nun als eigene Single nachgereicht.
Angefangen mit dem vielleicht einfachsten Rhythmus aller Zeiten stürzt sich das Duo in knapp drei Minuten funkigen Pop/Rock. Die Melodie geht direkt in die Beine, spricht von guter Laune und verführerischen Bewegungen. Katie White erzählt, beschwert sich und moniert. Dabei wird auch schon mal gekeift, wird über ein wenig Elektronik geknurrt, stürzt man sich in kurze Breaks, in einen instrumentalen Refrain. Die Discokugel funkt, die Bass Drum bekommt Junge. Währenddessen marschiert De Marino unbeirrt weiter.
"Shut Up And Let Me Go" ist erneut ein relativ einfach wie übersichtlich gehaltener Song, der auch schon mal vermeintlich zu früh abbricht. Keine Kompromisse, maximale Tanzbarkeit, kunterbunte Welt, ein Haus und auch ein Pferd. Ting ting, you win!
3,5/5
VÖ: 24.04.2009
Columbia Records (Sony BMG)
The Ting Tings @ Myspace | @ Amazon | @ Musicload