Empire Of The Sun – We Are The People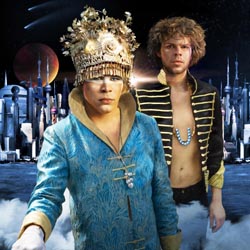 Sommerlich-glammiger Electro-Pop scheint seit Hot Chip und vor allem MGMT wieder in Mode zu sein. Neben Passion Pit diktiert das australische Duo Empire Of The Sun 2009 das Tempi in diesem Feld. Luke Steele (The Sleepy Jackson) und Nick Littlemore (Elton John, The Killers) konnten mit ihrem Debütalbum "Walking On A Dream" und der gleichnamigen Single einen Überraschungserfolg landen. "We Are The People" will daran natürlich anknüpfen.
Noch mehr als beim Vorgänger wird die Akustik-Gitarre in den Mittelpunkt gerückt, ist sozusagen Dreh- und Angelpunkt dieses Kleinods. Steeles leidenschaftliche Vocals kollidieren mit der relativ entspannten Grundstimmung. Mit dem einsetzenden Refrain – Beats und dezent eingesetzte Synthis – hebt "We Are The People" erstmals ab. Ist es nun eine frühsommerliche Weise oder doch ein melancholischer Stream of Consciousness über die Wirren der Demokratie? De facto startet das Imperium noch ein zweites Mal durch mit Kopfstimme und der gewohnten Leichtigkeit des Frühlings.
Empire Of The Sun schmeicheln sich und ihren Hörern. "We Are The People" lebt vom kleinen Zwiespalt zwischen musikalischem Teilzeit-Positivismus und weltunverbesserlicher Melancholie. In diesem Zusammenspiel, in den mitreißenden Vocals und der angenehm dezenten Instrumentierung liegen die Stärken dieses unterhaltsamen, stimmungsvollen Exkurses.
4/5 | Download-Single
VÖ: 08.05.2009
EMI Music
Empire Of The Sun @ Myspace | @ Amazon | @ Musicload