Cancer Bats – Bears, Mayors, Scraps & Bones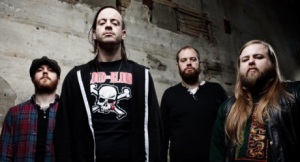 Auf ihren beiden ersten Album "Birthing The Giant" und "Hail Destroyer" haben sich die Cancer Bats als potentielle Macht im Hardcore- / Dirty-Southern-Metal vorgestellt. Den großen Sprung dürften die bärtigen Kanadier aber mit "Bears, Mayors, Scraps & Bones" schaffen – ihr Roadrunner-Debüt ist schlicht und ergreifend auch das bisherige Highlight ihrer Karriere.
13 Nackenschläge, vollgepumpt mit Testosteron, bärtiger Southern-Metal-Attitüde und angepunktem Hardcore lassen die Cancer Bats sich selbst überholen. Neben einzelnen Highlights wie "Dead Wrong" und "Scared To Death" fällt vor allem die Geschlossenheit dieses Albums auf. Mal härter, mal groovender, mal aggressiver, mal über Umwege attackierend – Widerstand ist zwecklos bei diesem Hitfeuerwerk.
Und dann ist da noch der abschließende Track 14, das Highlight, der Überhit. Cancer Bats covern "Sabotage" von den Beastie Boys. Klingt abwegig? Reinhören und genießen, denn die schwer keuchende Southern-Hardcore-Version kommt locker ans Original heran und wurde mit einem herrlich abstrusen Video garniert. Zu recht ein wenig von den übrigen Tracks auf "Bears, Mayors, Scraps & Bones" abgesetzt, dennoch perfekt in das Gesamtwerk integriert – mächtiger Drittling, nach dem die eine oder andere Verschnaufpause dringend notwendig erscheint.
VÖ: 23.04.2010
Roadrunner Records (Warner Music)
Songtitel @ musicload kaufen | Albumtitel @ Amazon kaufen