Grand Magus – Hammer Of The North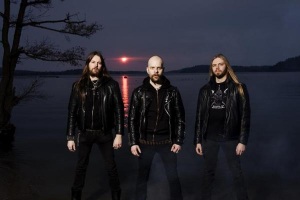 Nach vier mächtigen Alben über Lee Dorrians Label Rise Above war es nur eine Frage der Zeit, bis die doomigen Metalhelden Grand Magus den nächsten großen Schritt auf ihrer beeindruckenden Karriereleiter nehmen würden. Und tatsächlich, ihr Roadrunner-Debüt "Hammer Of The North" überspringt gleich mehrere Stufen und lässt den mehr als nur beeindruckenden Vorgänger "Iron Will" wie kalten Kaffee erscheinen.
Natürlich gibt es nach wie vor typische Grand Magus-Hymnen, die von doomigen Klängen und dicken Riffwänden durchzogen wurden. Der Titeltrack "Hammer Of The North", das frostige "Black Sails" und "Ravens Guide Our Way" fallen in diese Kategorie. Auffallend ist jedoch die Öffnung gen Metal-Mainstream. So würden sich beispielsweise Judas Priest nach "I, The Jury" sämtliche 40 Finger ablecken. Sollte Halford doch in Rente gehen – Grand Magus' JB steht bereit.
Großartig sind ebenso die zahlreichen Querverweise auf Dio bzw. Black Sabbath ("Bond Of Blood", "At Midnight They'll Get Wise") und die großartige, an Iron Maiden angelehnte Hymne "The Lord Of Lies" – sechs großartige Minuten an knisternder Spannung und bedrückend düsterer Atmosphäre. Besonders stark wirken Grand Magus dadurch, dass sie trotz eines deutlich offeneren Klangkosmos zu keiner Zeit auf ihre Trademarks verzichten. "Hammer Of The North" ist ein packendes, episch angehauchtes und beinahe erdrückendes Metal-Album, das sehr deutlich gen Genre-Olymp dringt. Die Meisterprüfung wäre hiermit erfolgreich absolviert. Next exit: Legendenstatus.
VÖ: 18.06.2010
Roadrunner Records (Warner Music)
Hammer Of The North @ musicload | @ Amazon kaufen