The Record Company – All Of This Life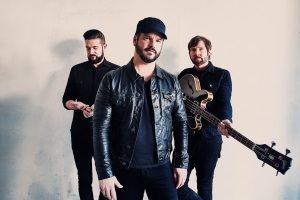 Mit "Give It Back To You" gelang The Record Company vor knapp zweieinhalb Jahren eine echte Punktlandung. Das Debüt des bluesig angehauchten Rock'n'Roll-Trios ackerte sich durch hochgradig gefällige Retro-Sounds mit angenehm eigenständiger Note. Für den Nachfolger "All Of This Life" wechselte man in die Boulevard Recordings Studios in Hollywood, wo bereits Pink Floyd und Fleetwood Mac aufnahmen. Vom angeblich so schwierigen zweiten Album ist angenehm wenig zu hören.
In aller Kürze und Schwere sowie mit ordentlich Traditionalismus behaftet, bahnt sich die Single "I'm Getting Better (And I'm Feeling It Right Now)" ihren Weg. Die Mundharmonika spielt eine wichtige Rolle, treibt den flotten Rocker voran und sorgt zudem für die nahezu obligatorische Blues-Note. Chris Vos singt und brummt in Bestform, sogar ein Hauch von Rockabilly weht durch die Luft. Davor lauert übrigens das verdammt coole "Life To Fix" – ein richtig cooler, modern angehauchter Blues-Rocker, der so auch von The Black Keys oder The Picturebooks hätte stammen können.
Aber auch in ausladenderen Gefilden fühlen sich The Record Company hörbar wohl. Für sechs Minuten Spielzeit gestaltet sich "The Movie Song" überaus kurzweilig und schmissig. Der Refrain mag ein wenig cheesy sein, was letztlich aber prima zum Track passt. Wer es hingegen nüchterner und direkter mag, lässt sich "Roll Bones" vorexerzieren oder beobachtet gespannt, wie "Coming Home" und sein wildes Piano langsam aber sicher Fahrt aufnehmen. Der rein akustische Abschluss "I'm Changing" verneigt sich vor den Wurzeln der Band. Und "Goodbye To The Hard Life"? Überraschend soulig und für sich großartig.
Greifbare Spielfreude und hörbare Musikalität von der ersten bis zur letzten Sekunde: Was sich auf "Give It Back To You" bereits andeutete, verfestigt "All Of This Life" nun: The Record Company wagen eine etwas andere Rundreise durch das Great American Songbook, schrecken aber ebenso wenig von modernen Retro-Einflüssen – klingt komisch, stimmt aber so – zurück. Durch die Bank starke Songs und beneidenswertes Bauchgefühl tragen durch eine genussvolle Platte.
All Of This Life
VÖ: 22.06.2018
Concord Records (Universal Music)
The Record Company @ Home | @ Facebook
"All Of This Life" @ Amazon kaufen