Florence And The Machine – Kiss With A Fist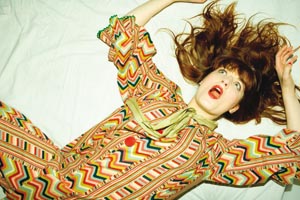 Langsam aber sicher schießen die Veröffentlichen des "BBC Sound of 2009"-Polls auch nach Deutschland. Die drittplatzierte Florence Walch steht für eine herrlich unorthodoxe Mischung aus Pop, Rock, Folk und Soul, die selbst Lily Allen und Kate Nash erblassen lässt. Gemeinsam mit ihrer Band The Machine veröffentlicht sie demnächst ihr Debütalbum "Lungs". Die Vorabsingle "Kiss With A Fist" kennt man bereits als Werbehit.
Auf diesem zwei Minuten langen Vorgeschmack auf kommende Großtaten gibt es vor allem die rockige Seite Walchs zu hören. Beinahe ansatzlos posaunt sie zu stark verzerrten Gitarren ihre Verse heraus und hetzt durch 124 Sekunden Wahnsinn mit Noise- und Folk-Anleihen. Liebe und Gewalt vertragen sich hörbar gut mit dem wunderbaren Cockney-(Mockney?)-Einschlag der jungen Singer/Songwriterin. Und hat man sich eingehört, ist "Kiss With A Fist" schon wieder vorbei, bereit für die flammende Repeat-Taste – dafür ist ihr kommendes Album prädestiniert. Dann ohne Brandstiftung und Faustschläge.
3,5/5 | Download-Single
VÖ: 15.05.2009
Island Records (Universal Music)
Florence And The Machine @ Myspace | @ Amazon | @ Musicload