Expatriate – In The Midst Of This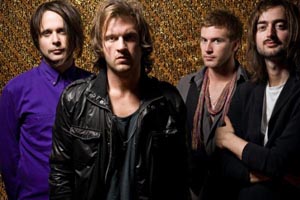 Auf ihrer frühsommerlichen Minitour durch Deutschland haben Dredg eine nicht minder atemberaubende Supportband mit an Bord gehabt. Expatriate sind vier Australier, die 2007 mit ihrem Debütalbum "In The Midst Of This" in der Heimat bereits ordentlich abgeräumt haben. Mittlerweile sind sie nach Berlin gezogen, um mit besagtem Album Europa zu erobern.
Zwölf Hymnen zwischen handfestem Rock und einem Hauch von Elektronik zeugen von Leidenschaft und Energie; von einer Band, die darauf wartet entdeckt zu werden. "Get Out, Give In" lässt massive Gitarrenwände auf Killers-Schwelgereien treffen, ein wütender Auftakt. Dahinter wartet die etwas nachdenklichere Single "Crazy" mit seinem Drumrolls – U2 lassen grüßen. Bestens bekannt von der letzten EP ist "Gotta Get Home" mit einem Sound, der aktuell Dúné zu höchsten Höhen verhilft.
"In The Midst Of This" lässt Assoziationskriege par excellance zu, so eigenständig es auch ist. "Play A Part" tänzelt durch die Garage und lässt die Indie-Disco in schwedischen Kandis tauchen, während "In The Night" coole britische Unterkühltheit zelebriert. Mehr? Gibt es auf "In The Midst Of This" – ein hypnotisches und herrlich tanzbares Album mit viel Leidenschaft und handwerklichem Können. Expatriate haben Hits für die neue Visions-Generation, gleichzeitig auch charttaugliches Material. Am besten sofort auf den Aussie-Zug aufspringen – neues Material ist bereits in Arbeit.
VÖ: 30.10.2009
PIAS Germany (Rough Trade Distribution)
In The Midst Of This @ musicload | @ Amazon kaufen