The Dead Weather – Sea Of Cowards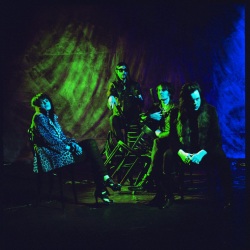 Bewährungsprobe für die Supergroup: Was The Dead Weather auf ihrem letztjährigen Debüt "Horehound" an verplanten Jams und neoklassischen Rockhymnen zusammengetragen hatten, war mehr als beeindruckt. Nun hat das Quartett um das Gesangs-Duo Alison Mosshart (The Kills) und Jack White (The White Stripes) "Sea Of Cowards" am Start, auf dem sämtliche wilde Ideen konsequent in halbwegs geregelte Bahnen gelenkt werden. Ergebnis: doppelte Durchschlagskraft.
Knüpft der verworrene, ausufernde Opener "Blue Blood Blues" – beinahe ein Soloritt von Jack White – noch die Verbindung zum Debüt, setzt es danach geschickt austaillierten 60s- / 70s-Rock mit fantastischen Riffs und einem herrlich kaputten Gitarrensound. Ob "The Difference Between Us" wie ein Amiga-Spiel klingt, oder "No Horse" mit einem verkappten ZZ-Top-Riff auftrumpft – hier regiert der Wahnsinn, der sich besonders ins Mossharts teils überdrehten und wie besessen wirkenden Shouts manifestiert.
Ach ja, die Hits. Sind natürlich auch wieder an Bord, wenngleich auch alles andere als offensichtlich. "Die By The Drop" als erste Single steigert sich beispielsweise in einen wütenden, hochtrabenden Refrain, der von Orgelklängen getragen wird. Dean Fertitas Orgel taucht auch im teuflischen "Gasoline" wieder auf, während in "Hustle And Cuss" auch der unbesungene Held Jack Lawrence eine Bühne für sein arschcooles Bass-Spiel bekommt.
Klar, der Überraschungseffekt fehlt auf "Sea Of Cowards". Meint man zumindest. Auf ausladende Jams verzichten The Dead Weather dieses Mal, treiben das Wechselspiel seiner beiden Stimmen auf die Spitze und lassen immer wieder Sprengsel von Led Zeppelin und Cream durchblitzen. Klingt konformistisch, tritt dabei aber ordentlich Sitzfleisch. Jack White kann wohl nichts falsch machen.
VÖ: 21.05.2010
Third Man Records (Warner Music)
Sea Of Cowards @ musicload | @ Amazon kaufen