Empire Of The Sun – Without You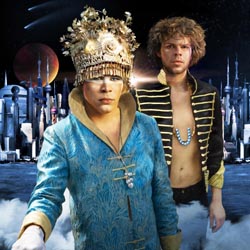 Der Sommer ist vorbei, doch Empire Of The Sun tanzen weiter, während aus aller Welt die Nachfolge-Generation des unbedarft luftigen Electro-Glam-Pop-Universums droht. Beinahe unbemerkt ist Ende 2009 eine Neuauflage ihres Debütalbums "Walking On A Dream" mit zahlreichen Mixen und neuen Songs erschienen. Ein ordentlich entschlacktes "Without You" erscheint nun auch als Single.
Deutlich gestrafft wirkt der Song gleich um einiges hitverdächtiger. Luke Steeles jammert zu Beginn recht, beinahe ohne instrumentale Begleitung, die sich erst nach und nach breit macht. Sehr basslastig, überaus groovig mit einer Explosion im Refrain. Die Instrumentierung weist leichte Parallelen zu "Human" von The Killers auf, ebenso zum luftig-leichten MGMT-Debüt. Und dennoch – der rote Faden, den Empire Of The Sun mit ihren bisherigen Singles konstruiert haben, ist deutlich wahrnehmbar. Quasi ein Trademark-Hit des australischen Duos. Wo wohl Nick Littlemore im Video abgeblieben ist?
3,5/5 | DL-Single | 22.01.
EMI Music
Without You (New Version) @ musicload kaufen
Walking On A Dream (Special Edition) @ Amazon kaufen