Jamie T – The Man's Machine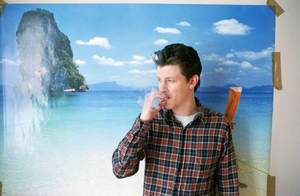 Schon wieder 2010, schon wieder die dritte Single. Und schon wieder hat Jamie T nicht den längst verdienten Mainstream-Erfolg in Deutschland verbuchen können. Vermutlich ist ein Sommerhit wie "Sticks'n'Stones" zu eigen, zu abgedreht, zu hektisch und gleichermaßen zu intelligent. Nach dem Zwischenhalt "Chaka Demus" wartet nun "The Man's Machine". Erneut digital mit drei exklusiven B-Seiten.
Der Titeltrack an sich lässt einen vergleichsweiste genordeten, in sich ruhenden Jamie T auf den Plan treten. "The Man's Machine" wirkt entspannt, nachdenklich und inhaltlich stellenweise doch angenehm schroff. Ein neuer Soulman, wenngleich hier eine 'beseelte' Übersetzung zu wählen ist.
Natürlich sind die drei B-Seiten wieder vom Feinsten. "Jenny Can Rely On Me" ist schrill, überdreht und hibbelig. Gesäumt von schrägen Samples, punkigen Gitarren-Einwürfen und einer unheimlich fetten Bassline wird hier Hochgenuss für Hammer, Amboss und Steigbügel geboten. "Man Not A Monster" setzt auf Ska, Clash-Punk und ein wenig Gogol Bordello – lebhaft mit Eastern Magic. "Believing In The Things That Can't Be Done" hingegen ist der obligatorische Ruhepol, der nachdenkliche Abschluss, die Gefühlsüberdosis – optimal platziert.
So hamma's also wieder – mehr als amtlicher Titeltrack, dazu drei verdammt starke B-Seiten, die auch auf "Kings & Queens" gepasst hätten. Überhaupt: So eine B-Seiten-Sammlung von Jamie T wäre durchaus eine Anschaffung wert. Weird shit.
4/5 | DL-Single | 08.01.
Virgin Records (EMI Music)
The Man's Machine @ musicload kaufen | Kings & Queens @ Amazon kaufen