Massive Attack – Heligoland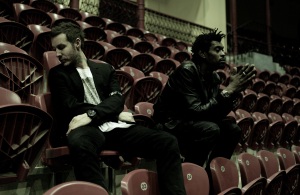 Ohne großartig um den heißen Brei herum zu reden: 20 Jahre nach der Veröffentlichung ihrer ersten Single "Daydreaming" zeigen sich Massive Attack stärker denn je. "Heligoland" (die englische Schreibweise Helgolands) ist in seiner beklemmenden Düsternis eine Rückkehr zur alten Form, zumal endlich auch wieder der Soul an und für sich einen Fixplatz bekommen hat.
Die Gästeliste kann sich einmal mehr sehen lassen. Neben Stammgast geben sich Damon Albarn (Blur, Gorillaz), Martha Topley-Bird, Hope Sandoval, Guy Garvey (Elbow) und Tunde Adembimpe (TV On The Radio) die Klinke in die Hand. Letzterer sorgt beim sanften, beinahe behutsamen Opener "Pray For Rain" – das weiche aber doch bestimmte Organ passt sich dem souligen Track perfekt an. Entsprechend ist "Babel" mit Drum'n'Bass-Elementen und Topley-Birds fordernder Stimme ein deutliches Kontrastprogramm.
Neben der bereits bekannten Single "Splitting The Atom" ist "Girl I Love You" ein weiteres Highlight. Beinahe glamig, sehr offensiv und deutlich in Electronica-Gefilden wurzelnd, legt sich Hope Sandovals sägende Stimme wie sperriger Morgentau über das Arrangement. Garvey hingegen bemüht sich um Indie-Schmeicheleien, soweit es das ziemlich entrückte "Flat Of The Blade" (einziger Schwachpunkt dieser Platte) wirklich zulässt.
Und Albarn? Drückt "Saturday Come Slow" seinen unverwechselbaren Stempel auf. Wie gehabt. Eigentlich ist "Heligoland" auch wie gehabt – wenn man eine weitere Annäherung an die Anfangszeit Massive Attacks erwartet – hat sich auf "Live With Me" bereits angedeutet. Daddy G und 3D sind gelandet.
VÖ: 05.02.2010
Virgin Records (EMI Music)
Heligoland @ musicload | @ Amazon kaufen
Massive Attack @ Home | @ Myspace