Cosmic Tribe – The Ultimate Truth About Love, Passion And Obsession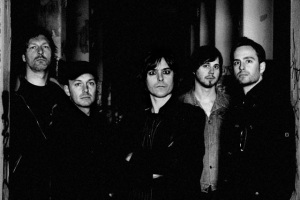 Genug von mächtigen Riffs, treibenden Rocksongs und einem Hauch von Düsternis? Nein? Sehr gut, denn "The Ultimate Truth Above Love, Passion And Obsession", das bereits vierte Album der Hannoveraner Cosmic Tribe, will gehört, abgefeiert und begossen werden – vor allem da man mit Fastball Music nun einen schlagkräftigen Partner für einen Release auf breiter Skala ins Boot holen konnte.
"All I Want" legt, von einem klassischen Rock-Riff angetragen, furios los, arbeitet zielstrebig auf einen hochgradig eingängigen Refrain hin. Besonders spannend: Dicke Sahg-Riffs treffen auf Stone Temple Pilots-Gesten und einen Hauch von 70s-Flair; ein Zwiespalt, mit dem Cosmic Tribe auf Albumlänge zahlreiche Hits und Hymnen ausstatten. Ob das druckvolle "Coming Down", die arschcoole Video-Auskopplung "On The Radio" oder das düster angepunkte "Sick And Soulless" – hier setzt jede Note, ohne jedoch mechanisch zu wirken. Seele und gefühlte Spontanität regieren.
Auch die Power-Balladen "Cold As A Stone" (als dritter Track sehr früh platziert), "20 Times To Mars" (Hit, Hit und nochmals Hit!) und "Sad Songs" passen sich perfekt ins Gesamtkonzept ein. Auszusetzen gibt es nur wenig, denn neben dem einen oder anderen obligatorischen Füller stört das etwas affige "Thanx!" wegen seiner steten Wiederholungen des Titels und dem sinnlosen Gestöhne gegen Ende. Nur weil Olli Busse im Refrain mit wahrer Stimmakrobatik das einzigartige Organ Scott Weilands heraufbeschwört, muss man keinen Orgasmus vortäuschen. Vibrato statt Vibrator, meine Damen.
Ob glammige 70s-Rock-Momente, breitbeinige Wüsten-Riffs oder ergreifende Balladen – "The Ultimate Truth Above Love, Passion And Obsession" bietet all das und noch viel mehr. Cosmic Tribe jammen sich regelrecht frei und liefern ein wuchtiges Album wie aus einem Guss für lange Roadtrips oder Stunden zu zweit vor dem lodernden Kaminfeuer – ein Re-Release, der Sinn macht.
VÖ: 24.09.2010
Fastball Music (Sony Music)
Album @ Amazon kaufen