KiD CuDi feat. Kanye West – Erase Me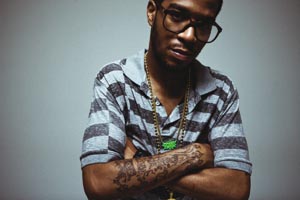 Genre-Bending scheint ein Hobby von KiD CuDi zu sein – siehe der Crookers Remix von "Day 'n' Nite", das GaGa-Sample in "Make Her Say" und das MGMT-Feature in "Pursuit Of Happiness". Während B.o.B und Chiddy Bang einer ähnlichen Taktik folgen, ist CuDi bereits einen Schritt weiter und rückt auf "Erase Me" die E-Gitarre ins Zentrum, ohne sie dabei wie Lil Wayne zu malträtieren.
Die erste Auskopplung aus "Man On The Moon II: The Legend Of Mr. Rager" beginnt sehr beatesk und wuchtig, nur um wenige Sekunden später eine amtliche Strophenstruktur aufzubauen. Wenn CuDi singt, tut er dies gewohnt schief – vor allem im Refrain mit gelegentlichem Kopfstimmeneinsatz. Klingt schräg, ist es auch. Der Singsang wirkt sympathisch selbstironisch, der druckvoll rockende Refrain smart. Kanye Wests Rap-Part fällt ein klein wenig aus dem Rahmen, was aber gewissermaßen zum dezent kaputten Gesamtpaket von "Erase Me" passt.
Dazu gehört natürlich auch ein schräges Video, in dem CuDi – mit einer überdimensionalen Jimi Hendrix-Perücke ausgestattet – den Rockstar mimt, seine affige Band durch diverse Backstage-Parties schleppt und dem wie einen Weihnachtsbaum behangenen Kanye West seine 15 minutes of fame schenkt. "Erase Me" lebt den Crossover-Gedanken, ist schmissig, einprägsam und clever genug, um verdammt dämlich zu sein. Schönes Ding.
4/5 | DL-Single
VÖ: 29.10.2010
GOOD Music (Universal Music)
Erase Me @ musicload kaufen
Man On The Moon II: The Legend Of Mr. Rager @ Amazon kaufen