James Blake – Limit To Your Love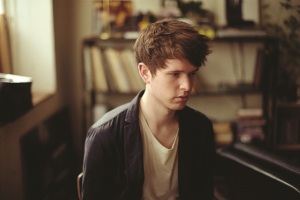 Glaubt man der BBC, so ist Post-Dubstep the next big thing. Samples, dezent eingesetzte Elektronik, Dub-Elemente und Singer/Songwriter-Habitus werden hier auf gänzlich neue Art und Weise zusammengesetzt. Einer der Vorreiter ist der Brite James Blake (nicht mit dem US-Tennisspieler zu verwechseln), dessen selbstbetiteltes Album durchaus für Furore sorgen könnte. "Limit To Your Love" verspricht zumindest sehr viel.
Gewöhnungsbedürftig ist dieser neue Sound allemal. Blake singt sanft und samtig, begleitet sich selbst auf dem Klavier. Klingt beinahe improvisiert und verspielt, scheint deutlich an Jazz angelehnt zu sein. Dann eine von vielen kurzen Pausen, die der junge Brite bewusst einsetzt und sich damit an klassischer Musik anlehnt. Das kurze Innehalten akzentuiert die kruden, schwer basslastigen Dub-Beats, die scheinbar zusammenhanglos durch die Boxen blubbern. Warum diese Erschütterung, warum das Torpedieren dieser zarten Ballade mit schwerfälligem Beatwerk?
Kaum erkennt man, dass dieser Song von Feist stammt, zu entfremdet, zu neuartig und umgekrempelt wirkt er. Dennoch hat der Zusammenstoß zweier gänzlich konträren Welten einen faszinierenden Reiz, macht süchtig und lässt nach mehr verlangen. "Limit To Your Love" ist ungewöhnlich, vereint eine jazzige Piano-Ballade mit unterkühlten Dub-Klängen. Mehr noch, James Blake macht ein Kunstwerk zu einem Faszinosum, offenbart brachliegendes Potential und verpasst den 2010er-Jahren ein düsterprogressives Klang-Antlitz. Beeindruckend von der ersten bis zur letzten Sekunde.
4/5 | DL-Single
VÖ: 28.01.2011
Polydor Records (Universal Music)
Limit To Your Love @ musicload | @ Amazon kaufen
James Blake @ musicload | @ Amazon kaufen