Kid Cudi feat. Kanye West & Common – Make Her Say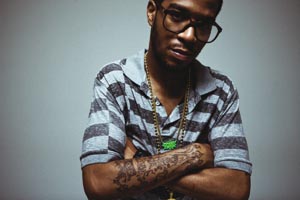 Laut BBC die größte HipHop-Hoffnung des Jahres, hat Kid Cudi bereits seine Visitenkarte abgegeben. "Day 'N' Nite" wurde in seiner ursprünglichen Rap-Version in seiner amerikanischen Heimat bzw. als Crookers Remix im Electro-Gewand in Europa zu einem Hit, dazu ist er auf David Guettas aktuellem Album "One Love" zu hören. Das Debütalbum "Man On The Moon: The End Of The Day" steht bereits in den Startlöchern, die fantastische Vorabsingle "Make Her Say" gibt es allerdings nur digital.
Bereits die ersten Takte dürften bekannt klingen – Cudi sampelt eine Akustikversion von Lady GaGas "Poker Face" inklusive Vocals. Ergebnis ist ein relativ poppiger Sound, zu dem im Turnus Kid Cudi, Common und Kanye West recht entspannt erzählen. Die Stimmung ist relaxt, als ob sich drei Freunde beim Goldkettchen-Schmied treffen und über ihren Tag philosophieren. Scratches treffen auf wuchtige Beats, stark reduziertes Tempo und poppige, skandinavische Melodien. Klingt komisch, funktioniert aber. "Make Her Say" ist vertraut und doch nicht, eingängig und doch clubtauglich, prominent besetzt und doch neu. Sollte funktionieren.
3,5/5 | DL-Single | 28.08.
Universal Music
Make Her Say @ musicload kaufen | Man On The Moon @ Amazon kaufen