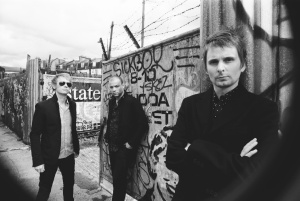 Nach zehn Jahren buddeln sind Muse zur Stadionrockband geworden. Ihr "Black Holes And Revelations" war ein kleines Meisterwerk, ihr Live-Set "HAARP" eine Offenbarung an Bombast, Schweiß und elektronisch aufgeladenem Rock'n'Roll. Nun, das zählt jetzt nichts mehr, denn das neue Album "The Resistance" muss diesen Höhenflug erst einmal bestätigen. Dass sich Muse allerdings auf dem richtigen Weg befinden, illustriert die erste Single "Uprising".
Mit wuchtig stampfenden Drums und einer düster angehauchten Stimmung – die Synthis spannen den Bogen zum letzten Album, spielen ein wenig auf "Starlight" und "Knights Of Cydonia" an – geht es in die ersten Sekunden. Matt Bellamy murmelt anfangs beinahe, steigert sich aber regelrecht in die Strophe hinein. Natürlich erkundet er wieder die höher liegenden Bereiche der Tonleiter, allerdings erst im Refrain. Anstatt hier aber zu explodieren, bleiben Muse der süßen Zurückhaltungen treu. "We will be victorious" – sinnbildlich für Song und Album.
Anstatt vollkommen zu übersteuern und sich in Bombast zu ertränken, legen die Briten nur nach und nach ein kleines Schippchen drauf. So wird der Refrain bei seiner zweiten Wiederholung etwas druckvoller, passt ein kurzes Basssolo genauso ins Bild wie die Chants und der dissonante Gitarrenpart im Break. "Uprising" ist weder überdrehen bombastisch, übertrieben abgedreht oder übertrieben eingängig. Diese Hymne steht am Nullpunkt dieser Extreme, wächst durch seinen erhabenen Charakter aber mit jedem Durchlauf. Ein Grower, ein Hit, ein hervorragender Vorgeschmack auf "The Resistance".
4/5 | 04.09.
Helium 3 (Warner Music)
Uprising @ musicload kaufen | The Resistance @ Amazon kaufen