The Naked And Famous – Young Blood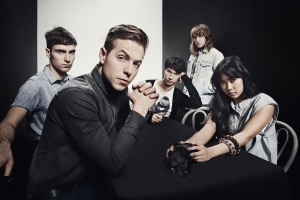 Den Pop-Feinschmeckern kann es momentan offensichtlich kaum elektronisch genug sein. Nach MGMT (die mittlerweile den großen Hits abgeschworen haben), Empire Of The Sun (Werbeträger #1 in Deutschland) und den sträflich vernachlässigten Passion Pit drängen nun The Naked And Famous aus Neuseeland nach Europa. Auf der Longlist für den "Sound of 2011" der britischen BBC turnen sie bereits euphorisch herum, jetzt kommt – pünktlich zum Jahreswechsel – auch ihre erste Single "Young Blood" digital in unsere Breitengraden.
Auch wenn es der wuchtige Beat nicht vermuten lässt – hier regiert die wunderbare Leichtigkeit des Seins. Zwischen der doppelten Synthie-Struktur mit zwei grundlegend verschiedenen, teils parallel laufenden Melodien und dem gelegentlichen Einsatz der E-Gitarre entsteht ein feinsinniges, tanzbares und doch in Nuancen nachdenkliches Arrangement, das durch den zweistimmigen Gesang – natürlich steht die bezaubernde Keyboarderin Alisa Xayaliths hier im Fokus – entsprechend zelebriert wird.
Mit einem charmanten Video abgerundet, machen The Naked And Famous auf "Young Blood" nichts falsch. BBC-Nominierung, Charttopper in ihrer neuseeländischen Heimat und Majordeal – 2011 könnte ihr Jahr werden, speziell wenn das Debütalbum "Passive Me, Aggressive You" Anfang kommenden Jahres auch hierzulande erscheint.
4/5 | DL-Single
VÖ: 31.12.2010
Polydor Records (Universal Music)
Young Blood @ musicload | @ Amazon kaufen