J Mascis – Several Shades Of Why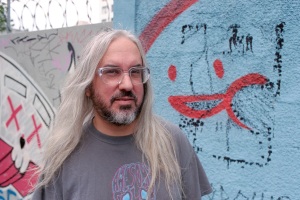 Solomaterial von Dinosaur Jr.-Gründer und -Stimme J Mascis ist rar. Sieht man von "Martin + Me" (weitestgehend Akustik-Versionen von Dinosaur Jr.-Songs) und dem Collabo-Album "Sing + Chant For Amma" ab, so ist "Several Shades Of Why" tatsächlich der erste Studio-Solo-Output des Raspelzupfers in seiner beinahe drei Dekaden andauernden Karriere. Hat ja auch lange genug gedauert.
Fast durchgehen akustisch begleiten J Mascis und ein paar Freunde (u.a. Ben Bridwell von Band Of Horses und Kevin Drew von Broken Social Scene) durch zehn sympathische Songs. Die E-Gitarre an sich wird nur spärlich eingesetzt, beispielsweise für ein kurzes Solo im eindringlichen "Is It Done" oder als Noise-Facette im grandiosen Abschluss "What Happened". Davon abgesehen regieren Gesang und Akustik-Klampfe, während im Titeltrack "Several Shades Of Why" Sophie Trudeaus Violine eine zentrale Rolle einnimmt und auf den Taschentuchspender abzielt.
Natürlich raunzt J Mascis nach wie vor in Perfektion, was gerade folkigen Nummern wie "Not Enough" und "Can I" sehr gut tut, den Songs einen gewissen Roots-Charakter verleiht. Dem gegenüber stehen die puristische Singer/Songwriter-Blüten "Listen To Me" und "Where Are You", die den klassischen Dinosaur Jr.-Geist zu atmen scheinen. Von seiner Hauptband vermag sich J Mascis auf dem durchgehend exorbitanten "Several Shades Of Why" auch nicht gänzlich zu entfernen, streut einige Parallelen ein, zitiert sich selbst und wirkt mit sich und seiner Umgebung eins – eine begeisternde Seltenheit bei diesem Unikum.
VÖ: 18.03.2011
Sub Pop (Cargo Records)
Several Shades Of Why @ musicload | @ Amazon kaufen